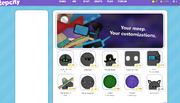 The shop is where players can buy accessories, hats, and even faces to customize their Meep. The Shop is also where players can purchase Limited items, which only have a certain amount in stock.
Categories
Each asset available for purchase in the Shop falls into one of the following categories:
Accessory
Hat
Hair
Face 
Eyes
Mouth
Color
Trivia
Face items are usually anything below the eyes and Accessory is anything above.
Some items do not have descriptions.